Is it really that time already?!? Time for the August Currently? I am in such denial about the ending of summer that I could barely handle turning over the calendar this morning!

Listening - I LOVE that there are marathons of Friends reruns every night. I miss that show!
Loving - The weather in my neck of the woods has been pretty amazing lately. I know that many people are questioning whether it is actually still summer, but I will take 70's and low humidity any day!! Especially since this is how most days have looked around here in the last few weeks.
Beautiful blue skies and big, puffy clouds!! I'll take it!!
Thinking - I have not accomplished much from the To-Do list that I started the summer with. It seems that I always have high hopes for all the organizing I will get done at home and in my classroom over the summer. This summer I also had dreams of creating many products for TpT and my classroom. I have so many ideas floating around in my head right now!! In reality, that's not really the way it pans out. In reality, I would rather spend my summer resting up and decompressing from the school year. In reality, family time comes first. I have been teaching for quite a while, and I'm not going to lie...I really enjoy the time off that summer provides. I LOVE spending time with my two beauties and the hubby, whether we are spending time with friends, relaxing at the beach, reading together for hours, or cuddling up doing nothing at all. That is what is truly important in life. That is what I will remember when my babies are grown.
Wanting - This one is kind of self explanatory after the last one. :)
Needing - Since I have tried to make the most of my summer, I will need to kick it into overdrive next week. All in all, my room is pretty much ready to go. I still have not received a class list though, so I will need to do locker tags and desk tags and finish my C.A.M.P. binders and...and...and...anything else that requires the students' names.
B2s Must Haves - (I, too, am whispering the s)
*I always need to buy new sets of pens and markers. It just makes those mundane tasks like grading and note taking easier when you have some brand new pens!
*I also must have copious amounts of coffee in order to survive having to set an alarm.
*Last year I found an amazing binder set from Amy at The Resource(ful) Room. It truly ramped up my organization in a very good way. I am excited to be using it again this year.
Amy has MANY different color options and patterns like camping, frogs, monsters, candy, dogs, zebras, jungle, and the ever popular Boho Chic, that you are sure to find a set that suits you. Oh, and I can't forget the AMAZING part...they are all FREE!! Yes, FREE!! She also has editable versions available in her TpT store. So, please, click the picture below to go check her website out!!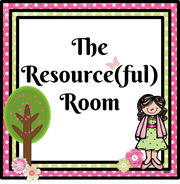 I hope that in the midst of all the crazy preparations for B2s, you will take some time out to enjoy the last waning days of summer!!